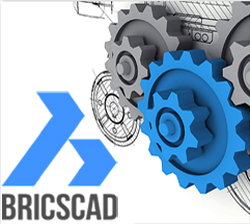 | | |
| --- | --- |
| Developer: | Bricsys |
| New version: | 16.2.9.03/ April 2016 |
| Development status: | Active |
| Operating system: | Windows, Linux, OS X |
| Size: | 159MB (Windows) |
| | 101MB (Linux) |
| | 193MB (OS X) |
| Type: | CAD application |
| License: | Proprietary |
| Website: | http://www.bricsys.com |
BricsCAD is a software application for computer – aided design (CAD) developed by Bricsys, Belgium. BricsCAD was developed and first released in 1999. From the first release into before November 2009, BricsCAD has been developed on the platfrom IntelliCAD. However, from November 2009 – BricsCAD version V10.0, Bricsys has been gave up the building BricsCAD on platfrom IntelliCAD and convert it to a CAD independent software.
BRICSCAD'S PRODUCTS
BricsCAD available for the Windows, Linux and OS X, devided into 3 main editions:
BricsCAD Classic: provides familiar 2D CAD drafting functionality, working with all .*DWG files, full LISP support (vl-, vlr-, vla- và vlax), support Chapoo cloud connectivity.
BricsCAD Pro: contains the features and functions of BricsCAD Classic, and adds 3D Direct Modeling, 2D and 3D libraries; high-defination rendering, a render materials library. Adds function to view mechanical assembly and an AutoCAD ObjectARX-compatible development system that supports hundreds of third-party application programs.
BricsCAD Platinum: contains the features and functions of BricsCAD Pro. Simultaneously add more functions 3D constraint creation, deformable modeling, imported geometry healing, automatic design intent recognition, assembly creation and editing, a preliminary (pre-release) version of BricsCAD BIM.
As of April 2016, the BricsCAD BIM functionality in V16.2 provides a core set of BIM, IFC (import & export), Sketchup Import and project database. The BIM functionality is continue development by Bricsys's developers team.
In addition, Bricsys also provides two add-on modules for the core BricsCAD product:
BricsCAD Communicator: Running inside of BricsCAD Pro or Platinum. It can import/export 3D CAD data to allow data exchange with most major Mechanical CAD programs (CATIA, PTC Creo, Solid Edge, NX/UG, SolidWorks, Autodesk Inventor) and several industry files format.
BricsCAD Sheet Metal: Running inside BricsCAD Platinum, provides tools for creeating sheet metal parts. The product uses lofted surface to create sheet metal features. This methodology assists in maintaining the model's integrity as a design in created, unfold, modify easy and quickly. BricsCAD Sheet Metal also export the parts are ready for production by the CAM system.
All 3 BricsCAD Editions use the Open Design Alliance –Teigha software development platform, giving the products native read and write capality of the .*DWG file format, made popular by AutoCAD.
Into May 2016, BricsCAD availavle on 18 languages. And BricsCAD V16.2.9.03 is lates version that released by Bricsys. Bricsys's will introduce BricsCAD V17 in October 2016 at the annual event was held in the Belgium.
(In the article that uses some referenced information from:https://en.wikipedia.org/wiki/BricsCAD)